Application (Authentication, Promotional and Marketing, and CRM), Deployment Mode, SMS Traffic (National and Multi-Country), End User, and Region – Global Forecast to 2025
[237 Pages Report] The global A2P messaging market size is expected to grow from USD 62.1 billion in 2020 to USD 72.8 billion by 2025, at a Compound Annual Growth Rate (CAGR) of 3.2% during the forecast period. A2P messaging is the powerful medium for businesses or enterprises in the communication market space to connect with mobile consumers. Businesses use text messaging to notify the users about updates for improving the user experience, which results in revenue growth of the company. SMS help in generating leads, increasing sales, and building better customer relationships across a wide range of industries, such as BFSI, retail & ecommerce, travel & tourism, marketing, hyperlocal businesses, and healthcare. The A2P messaging is growing and maturing across the globe, and will continue to evolve with long-standing and fresh challenges faced by market players. MNOs are increasingly securing their networks and addressing the problems that grey-routes present, while Over-The-Top (OTT) messaging applications are posing a new threat to the revenues of A2P. All around the world, mobile operators are losing revenue through unauthorized grey routes.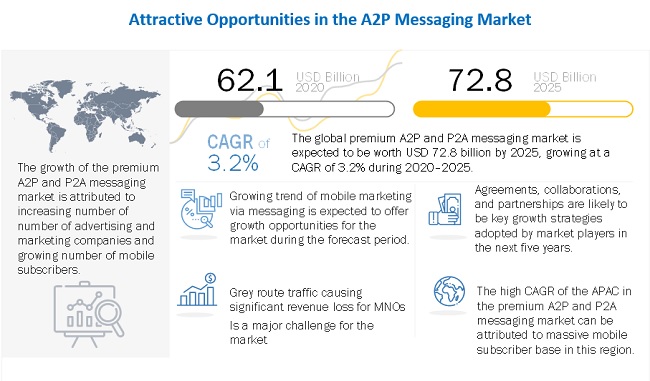 To know about the assumptions considered for the study, Request for Free Sample Report
Analysis of COVID-19 Impact on A2P messaging Market
During the COVID-19 pandemic, the telecom sector is playing a vital role across the globe to support the digital infrastructure of countries. Every individual and government, irrespective of federal, state, central, local, and provinces, has been in constant touch with one other in the society to provide and get real-time information on COVID-19. Currently, healthcare, telecommunication, media and entertainment, utilities, and government institutes are functioning day and night to stabilize the condition and facilitate prerequisite services to every individual. It is a crucial time for A2P messaging vendors to support telecom operators in the best possible way. Telecom operators are facing huge messaging traffic daily all over the globe. The majority of the workforce is working remotely, which, in turn, creates complexity to support an on-field telecom engineer to configure and manage SMS firewall deployment. The increase in A2P message traffic and safeguarding messages from unauthorized access brings new opportunities for A2P messaging vendors. Post the COVID-19, the A2P traffic is expected to grow due to the proliferation of usage of online services.
Market Dynamics
Driver:  Growing number of mobile subscribers
The growing mobile subscriber base is fueling the A2P market. As per the GSMA Mobile economy 2019 report, there were approximately 5.1 billion unique mobile subscribers in 2018, wherein smartphones accounted for 60% of the connections, and it is expected that the number would reach approximately six billion in 2025, with an 80% share of smartphones. With the increase in the mobile subscriber base, enterprises, MNOs, and application developers have the opportunity to connect directly with their customers more efficiently across the globe. The MNOs aim to increase their revenue by spending more on A2P services. As it would be expected, customers with mobile phones frequently use messaging to communicate; this enables enterprises to send notifications, alerts, verifications, and promotional messages to their customers using this feature. Moreover, China and India have major market shares in the A2P messaging service, and it is expected to increase during the forecast period, owing to the ever-increasing mobile subscriber base.
Restraint: Stringent government regulations and policies
Messaging is the simple, easiest, most commonly used, and fastest communication channel for enterprises addressing consumers on a larger scale. It is most commonly used in various industries, such as banking, finance, retail, healthcare, and travel and hospitality. Owing to the personal nature of text messages, and the context transmitted in them, it is highly regulated by government bodies all over the globe. Government regulatory bodies are more concerned about addressing customer issues related to the security provided by enterprises and MNOs in the A2P messaging space. Regulatory laws restrict enterprises to send bulk SMS to their customers. There are several restrictions placed on enterprises, SMS aggregators, and MNOs over sending messages to the customer in terms of the limited number of messages per day, particular time slot, and do-not-disturb activation by user. Countries have different regulations and guidelines in terms of security that need to be complied with by MNOs for providing enterprise-grade messaging services to customers. Industry governing bodies such as Cellular Telecommunications and Internet Association (CTIA), National Regulatory Authorities (NRAs), TRAI, and Federal Communications Commission (FCC) have implemented complex rules and regulations on the use of text messaging. The degree of rules and regulations varies from country-to-country, which impacts the A2P messaging market.
Opportunity: Growing trend of mobile marketing via messaging
With mobile marketing, enterprises offer their customers instant notifications, alerts, promotional messages, ticketing, and marketing messages. Mobile marketing has been widely used across industry verticals, such as BFSI, media, and entertainment, travel, tourism, retail, aerospace, insurance, and healthcare, as it is one of the easiest and cost-effective communication means in generating leads, increasing sales, and building customer relationships. According to one of the leading telecom companies' survey, on average, 97% of all SMS messages are read within three minutes, as mobile phones are often always kept within reach. As enterprises are using SMS messaging services to improve user experience by communicating with them, the immediate need to protect the data of their organizations as well as customers has emerged as one of the top priorities for them. Mobile network operators and SMS aggregators are increasing their focus on A2P messaging to increase their revenue; for instance, when a mobile marketer uses A2P messaging, enterprises pay the telecom operator and SMS aggregator for their services. Mobile marketing is a key opportunity for the A2P messaging market to grow in an upward direction.
Challenge: Grey route traffic causing significant revenue loss for MNOs
A grey route is one of the illegitimate messaging routes through which an entity (sender/receiver) does not have any commercial agreement and/or relationship with the operator. Hence, no termination fee is needed to be paid by the sending entity to the receiving MNOs. As a result, MNOs will lose revenue from the sending parties. Nowadays, grey route traffic accounts for more than 40%–50% of the total A2P messaging and yields approximately one-tenth of the revenue per message compared to the white route. As per GMS Worldwide statistics, operators are losing USD 21 million per day and USD 7.7 billion annually due to SMS grey routes. Hence, MNOs are capitalizing on identifying and eliminating grey routes by applying various techniques.
Among applications, authentication services segment to grow at the highest CAGR during the forecast period
Under the applications segment, authentication services segment is expected to grow at the highest growth rate during the forecast period. Authentication services are basically used for communicating the authenticating messages to the customers In the A2P SMS market are used for applications are increasing which is increasing the number of logging in and registering messages for the consumers leading to a high growth rate of this segment.
Among vertical, the BFSI segment is expected to dominate the market during the forecast period
Based on vertical, the BFSI segment of the A2P messaging market is projected to hold a larger market size during the forecast period. Increasing subscriber base brings an opportunity for the BFSI industry to engage with their consumers. A2P messaging solution helps them to connect and build a robust connection with customers, from announcing transaction details, and consumer activities, related to retail banking and for and assisting consumers with their needs. Due to constant growth in the number of internet users and the proliferation of smartphones, tech-savvy consumers expect quick service. A2P messaging is witnessing huge growth in BFSI sector.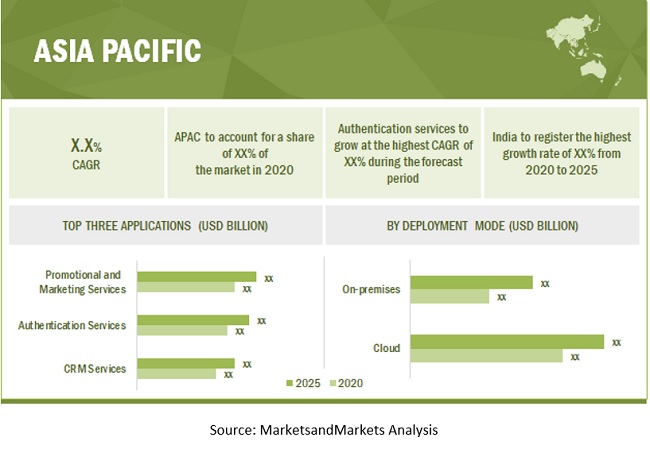 To know about the assumptions considered for the study, download the pdf brochure
APAC to account for the largest market size during the forecast period
APAC is estimated to hold the largest market share in 2020. Due to a massive mobile subscriber base, enterprises in this region are becoming more competitive and focusing on offering better customer service in A2P messaging solutions. Thus, the untapped potential of this region is attracting investments by major companies. The growth in the APAC region is primarily attributed to potential opportunities available for advertisers in APAC, given the high concentration of feature mobile phones in this region. Moreover, several multinational companies are focusing on expanding their business in countries across the APAC. This offers potential growth opportunities for A2P SMS providers to increase brand awareness of business organizations.
Market Players
The report includes the study of key players offering A2P messaging solutions and services. It profiles major vendors in the global A2P messaging market. The major vendors include AT&T (US) ,Sinch (Sweden), Infobip (UK), China Mobile (China), Orange (France), Route Mobile (India), Comviva (India), Twilio(US), BICS (Belgium), Monty Mobile (UK), Syniverse (US), Global Message Services (Switzerland), Tyntec(UK), Silverstreet (Singapore),Vonage (US), Genesys (US), TATA Communications(India),Cequens (Egypt),Mitto(Switzerland),ClearSky Technologies (US), Sify Technologies (India), MSG91 (India), Textlocal (UK), Clickatell (US), Kaleyra  (Italy), MessageBird (The Netherlands). These players have adopted various strategies to grow in the global A2P messaging market.
The study includes an in-depth competitive analysis of these key players in the A2P messaging market with their company profiles, recent developments, and key market strategies.
Scope of Report
| | |
| --- | --- |
| Report Metric | Details |
| Market size available for years | 2016 – 2025 |
| Base year considered | 2019 |
| Forecast period | 2020-2025 |
| Forecast units | Value (USD Billion) |
| Segments covered | Component(Platform and A2P Service), Deployment Mode (On-premise and Cloud),Application (Authentication Services, Promotional and Marketing Services, Customer Relationship Management Services, Pushed Content Services, Interactive Messages, and Others), SMS Traffic(National and Multi-country), End User (Banking, Financial Services, and Insurance, Retail and eCommerce, Hyperlocal Businesses, Healthcare, Travel and Hospitality, and Others) and Region |
| Regions covered | North America, Europe, APAC, MEA, and Latin America |
| Companies covered | AT&T(US) ,Sinch(Sweden), China Mobile (China), Infobip(UK), Orange (France), Route Mobile (India), Comviva (India), Twilio(US), BICS (Belgium), Monty Mobile (UK), Syniverse (US), Global Message Services (Switzerland), Tyntec(UK), Silverstreet (Singapore),Vonage (US), Genesys (US), TATA Communications(India),Cequens (Egypt),Mitto(Switzerland),ClearSky Technologies (US), Sify Technologies (India), MSG91 (India), Textlocal (UK), Clickatell (US), Kaleyra  (Italy), MessageBird (The Netherlands) |
This research report categorizes the A2P messaging market to forecast revenue and analyze trends in each of the following submarkets:
Based on Component
Based on Deployment Mode
Based on Application
Based on Traffic:
Based on Vertical
Banking, Financial Services, and Insurance
Retail and eCommerce
Hyperlocal Businesses
Healthcare
Travel and Hospitality
Others
Based on Region
North America
Europe

UK
Germany
Rest of Europe

APAC
MEA

GCC Countries
South Africa
Rest of MEA

Latin America

Brazil
Mexico
Rest of Latin America
Recent Developments:
In November 2020, Twilio acquired Segment, the market-leading customer data platform, at USD 3.2 billion. This acquisition helps developers and companies to access the world's leading cloud communications platform to effectively manage customer communications, including SMS, Messaging, Voice, Video, Email, and Internet of Things (IoT).
In September 2020, Infobip partnered with Span to help Span build connected customer experiences through Infobip's entire customer engagement and experience portfolio, thereby onboarding new customers looking to accelerate digital transformation.
In June 2020, Sinch announced to acquire ACL Mobile Limited, thereby expanding its operations in India. ACL Mobile limited is one of the leading providers of cloud communications services in India and Southeast Asia and with the acquisition of ACL Mobile limited, Sinch enters into the world's second-largest mobile market. ACL Mobile limited has helped more than 500 clients to interact with their customers through multiple channels, including SMS, voice, email, IP messaging, and WhatsApp.
In May 2020, Infobip launched Conversations, a new contact center solution, enabling businesses to integrate the world's most popular communication channels. All the messaging services, including Facebook Messenger, WhatsApp, Live Chat, SMS, and in-house chatbots can be managed through Conversations.
In October 2019, AT&T, Verizon, T-Mobile, and Sprint partnered together to work on joint project for transforming message. All these companies have started Cross-Carrier Messaging Initiative (CCMI), a next generation of messaging service to consumers and businesses.
Source:
Please follow and like us: